Goodbye Kuala Lumpur!!!!
I am so tired of this now.
But I am ready, I am more then ready to say GOODBYE to KL!
And Goodbye to the BED BUGS I'm sleeping with.
Goodbye to being dirty and nasty.
And say HELLO to Pretty and Sexy again.
Say HELLO to a nice tan AGAIN.
To go back and say HELLO to the nice swimming pool in Bali.
The free fruit for breakfast and enjoying sitting on the balcony with a smoothie.
Going back to painting maybe?
But when I'm going to be there, I'm going to miss my "laughing crew".
My spaceship and the captain of course.
But I have a new crew now and I guess that we are going to laugh
as much as the last time as well, when LeeLee go "BLANK".
Today have been a long day.
But it needed to be done so I can leave tomorrow!
I took Johan with me to the imigration in Putrajaya, just outside of Kuala Lumpur.
Poor little thing, he sat there with me for SIX HOURS and waited.
And waited.... and waited....and waited....
I felt bad about draging him with me, but after all those hours of waiting -
I finally got my ENTRY stamp!!!
Or not a stamp, it actually was a whole page in the passport.
But I got it anyway, without major problems so now I feel free.
Otherwise, not much to say today.
Nothing new. Same same.
I hope I don't bump into my stalker again on Bali.
That would be creepy, but then at least I have good friends with me.
I learned my lesson over there haha :P
(OR DID I? hehe)
Goodnight party people.
---
Erase and Rewind?
The Cardigans sings a really good song that inspired me alot.
So, I finally listened to it and took action.
I'm trying to do the "Eternal sunshine of the spotless mind"
And so far, it's working. As I wrote couple of days ago,
"you should never regret and never erase" and I don't.
But from now on I just move on with the life I want to live.
But good connections with some people is hard to find or make.
At least for me. Even if I know alot of people and have alot of friends
and every single one of them, mean something different for me in my life,
it's not many people I've met in life that I feel a good connection with and stays.
I think I can count them on my both hands.
I choose who I want to let inside and who I want to be around and when.
I am not boring in any kind. I am fun.
Well, some people may think I am now in my older days,
but I think it's just because we are on different levels in life.
I am more comfertable today and I CHOOSE WHEN I want to have fun.
I also believe that I've met many of them in my past lives.
And it's not a coinsedense that I meet them again, in this life I live now.
My mission for some of them, is to help them with their problems and situations.
And when they are ready, I am ready to move on.
Some of them don't understand or want to take action themself, and then I can't help.
Some of them, I have to learn from. Wich I like.
I like to learn stuff these days (not like when I was a kid)
But I prefer a mix of both, someone you can talk to and that understands you.
I want to visit a REAL medium about past lives.
And find out if I'm right about what I feel.
But I think some of my friends also know that we have a connection from the past.
Someone you can hate and love and something you just can't let go.
I remember one exemple:
Me and a friend was going for a coffee in Malmö.
Earlier I talked to one of my closer friends and asked if he wanted to come.
He said something like this: "I'm meeting another friend today so
I'm not able to meet you later in town, I'm sorry"
When we hung up, I had a feeling about that I was going to see him anyway.
Me and my friend was walking in the rain, on the way home to my appartment.
Since my friend lives very close to me,
I thought more about it and had an even more stronger
feeling about bumping into him on the same street we were walking on.
And 3 minutes later.... What happens?
There he was.
When I saw him, I didn't say anything about it.
But he was laughing and just said : I knew it haha.
I knew I was going to meet you.
I was thinking about bumping into you on here anyway,
so that's why I didn't have to call you.
Explain that to me!
Was that just a coinsedense?
Was that our strong thoughts being connected?
And how could we both feel the same thing?
How could we KNOW?
Time for more thinking, but in bed.
Goodnight amigos.
---
Special...
My facebook status said:
I need a job!
I got this answer from Peter:
What you need to do is find your passion, then follow it.
The Universe will then provide everything you need, exactly when you need it.
Synchronistically, I received this quote by e-mail today.
Take note Lee:
"To find out what you love to do demands a great deal of intelligence;
because, if you are afraid of not being able to earn a livelihood,
or of not fitting into this rotten society, then you will never find out.
But, if you are not frightened, if you refuse to be pushed into

the groove of tradition by your parents, by your teachers,
by the superficial demands of society,
then there is a possibility of discovering what it is you really love to do.
So, to discover, there must be no fear of not surviving." - Krishnamurti

Thank you Peter for your note!
I appriciate it alot, such I appriciate that you are writing good stuff to me,
just when I need it. It's just in the right moments!
And you should know that I listen to you alot,
and I think you are an wise, good, smart and peaceful man.
Thank's for being nice and careing about other people!
You are a very special man and I'm greatful and happy that I met you.

Thank you!


A nice day at Igors boat, Isla Mujeres - Cancun in Mexico late february 2009.
---
Another boring day...
Hey y'all!
Hmmm... I don't think I've ever been this restless during my trip.
There is absolutely NOTHING to do here.
We are just tired, lazy and ill all the time.
All we do (Me, Annica and Johan) is sleep because it's too hot,
eat, surf on the internet, and watch movies. (most of the time at least)
Our guesthouse (OASIS) is nice and cozy, but I think it's too bad for us to stay here.
We feel comfertable at this time, and it's a bit like Langkawi, everyone knows everyone.
Long term people.
But you get and feel dirty, filthy, and lazy.
And it's not the cleanest house I've been to either.
We just hang around on the "round table nr 2" or watch new movies.
I really liked the lovely bones. Weird but cool movie.
We try to do things, but there is not much to do in a big city without much money.
And since I've been sick, it's even worst.
Well, me and Johan went to the BATU CAVES today and that was nice.
We also visited couple of stores today and yesterday that sells animals.
Dogs, cats, birds, turtles you name it.
It's looking really bad in those stores, for the animals.
It's not really clean, not enough space etc etc.
I saw so many cute puppies and kittens I just wanted to take with me home.
Look at this little thing. I saw one like this, OMG I LAUGHED!
And then the fishes.
Annica went to Melacca over a day, to see couple of guys we met in Tanah Rata!
She'll be back tomorrow and then I'm going to have a nice massage from her :)
That would do good for my stiff neck and shoulder, that I think is the reason why I have a migrain,
So, I'm going to bring Johan with me to the imigration tomorrow instead.
I'm getting better and better but I'm still not 100 %.
I just want to work out and have more energy and do more stuff.
But it's just so sweaty, sweaty, sweaty.
My sweat is actuallly just dripping the whole time and my clothes is so slimmed into my body.
Sometimes it's just too much, specially when you are sleeping and wake up SOKED!
Ok. Nothing more to say for today.
Because it's nothing interesting to say or do here.
Anyway, found couple of more pistures and wanted to upload them.
I can imagine that this is ME driving as soon as I got my license ;)
---
Migrain and water...
I'm on my 7th day of having migrain.
I'm taking pills everyday, usually it comes in the afternoon.
It's soooo hot here, and you get so tired!
I drink alot alot of water, compared to what I used to do.
Nothing helps!!!!
I also STILL have a dry cough, so I took the last of my money for medicine.
Still no cash on my account, soon I have to sleep on the sidewalk.
I can't wait until I get my ass on the flight to BALI again.
Tuesday is my ticket booked with Johan and Annica.
I just hope it's no problem with the imigration on monday.
Until then, I'm hoping my migrain is not because of my happy pills,
and I'm going to continue drinking water/Resorb.....
And 100 plus (The Malaysian version of Resorb)
Okey, time to leave this computer and let Annica pet me and my hair.
I've missed someone to pet me, or just be close to a friend.
I looove hugs! :) I need a big one today.... Mmmmmm...
Ciao
---
Bounce Little Kitty


Annica's song.

What would the REGGEA BAR in KL be without good HOUSE MUSIC?
Weird, but I love it.
We needed to shake our Swedish asses yesterday.

I can't wait until I can get back to Bali Bali Bali.
Oh, I miss it so much!!!!!!!
Since I still can't leave the country because I don't have a stamp in my passport
I need to get to the imigration on monday, I was there today but their system was down.
BOLUX like they say in England.
So I guess that we are stuck in KL couple of more days. :P

There is a Swedish invation here on Oasis guesthouse.
Me and Annica, Johan (Annicas friend),
Mia and her boyfriend, that I met on Isla Mujeres, Mexico.
(How big is the world???)
Two girly girls from Lund that we met in Langkawi
Tom, the biker and another guy.

I know you miss me, just say it! ;)

---
Picture update
Rafflesia, the world biggest flower.
Walked in the jungle for 2 hours (one way) to see this.
Our jungle trekking group.
I try to look happy, even if I'm sick as hell...
Tea plantation.
Rafflesia.
Monkey buissness
Trekking
---
On the road again
This is how the road looks like, where we WALKED for almost 2 hours outside
of Tanah Rata to see the wild Rafflesia flower that is the world biggest.
More pictures on the flowers come later.
Quite an experience to walk on that road, I would say.
And no, we weren't that lucky and had the car!
Money is on the account now. Woho!
Buuuut... I had to pay back more then half and that means that I'm broke again.
Sayonara to that 9000 SEK!I really need a job. Now!
Passport CHECK!
Brunette vs. Blondie!
---
Fear and Loathing in KL!
Woke up in time, 6 guys next to me....
Aaaaaah aaaaaahhhhhhhhh!!!
A cute naked ass in front of me, YES NAKED!
I haven't seen a cute ass for a while either.
I don't know what to do with myself!!!
KILL ME. NOOOOOOW!!

Shower and then my first day trying my "happy pills".
Yes, they do exist and they do work! :)
Took the subway down to the Swedish Embassy and got my new passport.
My VISA card arrived yesterday, so now I've got everything except money.
I stopped at KLCC (Petrona Towers, at the shopping mall)

I did some window shopping.
And some drewling...over Jimmy Choo. Oh!
Pumps... Oooohh.... HIGH HEELS!! I miss, miss miss it.
I wonder how my feet is going to feel after walking in flip-flops for a year?

So, I continued my window shopping.
Prada, Armani, Gucci, Banana Republic, Billabong, yes you name it.
So, there I was... Walking around like a idiot with my healthy
ginger/carrot/orange/apple juice and a veggie wrap that's going to last all day long.

Felt a bit like Fear and Loathing in KL.
So, I decided to go back home again.
And now I've got everything again!
I'm just waiting for Annica to arrive from Tanah Rata later today.

I'm gonna read a book now.
So I focus on something else then just naked asses.
I finished Carolina Gynnings second book allready.
YAY to me! Took me not over a week to read.
Here is a picture on my new look BTW.

Like it?




Hasta la vista amigos.
---
A happy & good change!
I've been feeling good today
. Really good actually.
I finish my work on the computer earlier.
Walk into the dorm (full of men) to leave my stuff.
I see a half naked (half black) body, laying and hugging his pillow nin his sleep.
I laughed
and left my things with a smile.
Went to the nearest hairdresser and changed myself.
A make-over I've been waiting for a long time.
I needed a change.
A good change.
And afterwards, I got more power again.
AND, I don't feel sick anymore! :)
More energy and you could see the twink in my eye again.
And so did the men. Even if
I'm a brunette again.
I also went to a pharmasy.
I LOVE ASIA FOR THEIR PHARMASY!
You can buy ANYTHING! So, I bought some
"HAPPY PILLS".
You'll see me in couple of weeks and see how pills can make you happy! :)
Thanx for the tip
Carolina Gynning!

Pictures will come ASAP
, when Annica arrives tomorrow.
Yes, BTW. She stayed one day extra in
Tanah Rata
because she needed it.
And I think she did! :)
Anyway... this is from the Tea plantation "BOH" in Tanah Rata.
B-E-AUTIFUL Place. I wish I didn't feel so sick when I was there though.
Hasta la vista amigos
---
Your gain of money! URGENT!
Lately I started to connect with myself again.
I trust myself again and my feelings.
In a long time, I ignored myself and made myself smaller then I am.
I know I take alot of space and it's not everyone that can handle that.
But it's time for a change, again!
I'm back on my feets, and this time - It's true!
I feel better and better every day.
I have
dreams and déjavús
that is getting real.
How is this possible? I can't explain it.
I know I've been in different places before, that I never visited in my life.
In my dreams. And I remember it.
How is this possible?
How is it possible for me to know that things are going to happen to other people?
I told Annica about this, and the more I talk about it, the
more guiding
I get.
I think I need to be open for this and talk about it.
If I ignore it, again... It will go against me.
I know that I need to be around people that beleive the same things as I do.
That don't think I'm a nutcase!
And since I'm writing about it here, maybe you think I'm a
nutcase.
But, I don't really care about that. Not everyone can love me.
Either you
love me or hate me
, that's simple.
I'm simple.
And simple is BIG!
Well, anyway. Here is one exemple:
I received a e-mail from my G-mom today.
She explained to me that the money from the insurance company is now on it's way.
Total 9000 SEK.
I'm gonna pick up my
passport
tomorrow and hope
for the best that my
VISA card
comes as well.
After I finish reading her e-mail, I saw another e-mail in my inbox.
From someone that calls herself a
medium,
I don't write any names.
I signed up online just for fun. The writing is good.
I haven't paid anything of course, but I receive very long e-mails once a while.
The messege was
"Your gain of money! URGENT!"


I was curious of course so I opened the letter and I was in shock.
It started something like this:
"Dear Lee,
Only two weeks ago, I personally adressed you a confidential letter in which
I informed you that your problems of money may come to an end soon because
I saw you receiving an important sum of money!
Have you received this confidential letter which was very important to you Lee ?
If I allow myself to ask you that,

it's because I've just opened today's mail box and I

haven't found the mail from you I was awaiting...
I'm very annoyed, Lee, because the precise day I see you

receiving this sum is near and I see you're not in good condition to receive it!"
It was the letter I just read!!!!!

Not in good condition? YES, that's also true.
I am still sick!
She also told me that the amount is 90.000, she saw alot of zeros.
It's very close though, 9000 SEK, only one zero MINUS!
Is this just a coinsidence?


You tell me!?
And this is not the first time this stuff happens.
The day before I got robbed here in KL couple of weeks ago,
I visited a Chinese old man in a old store.
The man guided me and explained to me about
Feng Shui and The Chinese Calender.
From nowhere, the man started to talk about other stuff....
Why I was alone, and I shouln't. I should be more careful
and not trust people here etc. It was a
bit creepy.
People I met in Asia has always been positive with me, but this man....
I can't explain it,
I just felt bad walking out
from the store. (even if he was polite and nice to me)
And the next day I got
robbed
in the Petrona Towers.
Explain that!!!!!!!
---
Yeah
HAHA. I want my kiddo to have the SUCCESS in the eyes like this.
LOL.
More to come tomorrow. Time for bed.
Gonna see the world biggest flower tomorrow.
Rafflesia!
C YA
---
Mom always told me to eat my vegetables
Alice in vegetable land :)
Fallen down into all the strawberries....
Weeeeeehoooooo.....
---
Eternal sunshine of the spotless mind
A person who erase things in their life...
Erasing for me is regreting.
You should never erase and you should never regret.
Everything is knowledge.
Take it with you, keep it and be greatful for the experience of it.
You should keep everything with you as long as possible.
If it's too hard for you, and if you think it's too hard for you to keep,
do it. Do what's best for you at the moment.
But don't regret it. I regret many times when I thrown
pictures or gave away nice gifts I got from someone.
It can be pictures, gifts, sms, e-mails,
diarys, or just something you shared with someone else.
Memories. I don't want to delete someone from my life.
Not until I'm ready at least.
Sometimes I WISH I could erase someone from my memory just
like they can do in the movie:
"Eternal sunshine of the spotless mind"
If I actually think about it, I never want to do something like that.
BUT, it would be so much easier.
I think you just need to learn how to think different.
See the good things in it. Try to like it.
That's what I'm trying to do.
AND BY THE WAY... IF YOU HAVEN'T SEEN THIS MOVIE, DO IT!
---
Computer picture
Photo taken by computer while walking in our garden to the living room.
And this may not be the best picture taken with my computer,
just because of the light... but here is some of our view from our how we live.
Nice old english buildings, and me.....sick like hell....
---
From Hell to Heaven - Tana Rata
This morning when we left Mc Donalds,
we walked down to the bus station.
No No No, the first bus is not 07:40, it's 11:30!
What? You got to be kidding me?
If you want earlier buses, you have to go to the other bus station.
We sat down for a moment and I asked Annica
if she could touch / play with my hair for a second.
3 second later I was a sleep.
We finally got on the right bus, after million of hours.
I couldn't keep my eyes open.
We arrived, and from a ghetto town to a beautiful village.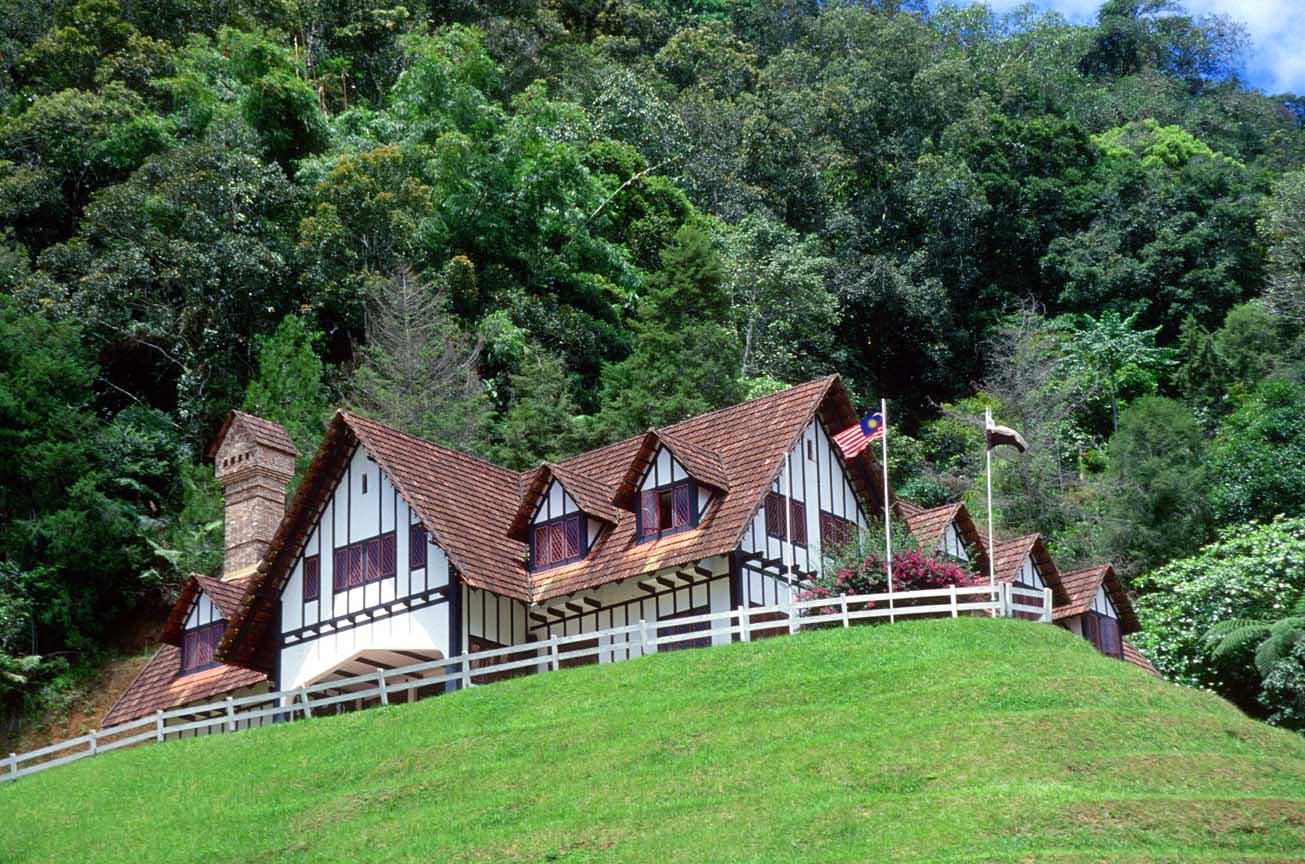 We were 1524 meters above sea level, high up in a mountain.
It was cold. Really cold, but nice fresh air.
It didn't feel like Malaysia. It felt like home.
From sweating or ass off to absolutely freezing.
And I am sick too by the way so it didn't do any better.
On the way we saw tea plantations, strawberry farms,
butterfly farms, waterfalls, and of course.... alot of mountains!
We went from hell to heaven :)
The houses around us look like old swedish / german / Swiss houses.
But they are actually old english houses, since Cameron Highland is an old English Colony.
And since we saw alot of mountains, it looked like Switzerland alot.
(without snow) Here is no jungle, it's just forrest.
You see same flowers, trees etc as you do back home.
We arrived to FATHERS GUESTHOUSE wich is up a hill.
Looks like a nice old hotel / mansion.
Big Big garden and grass around you, that they take care of very very well.
They serve alot of tea here, and fresh home made scones.
Since my appetite has been really weird lately
I just decided to go to bed for couple of hours,
since we didn't sleep during the whole night and so I could feel better later on.
So, I wake up and I'm absolutely starving.
Take my medicine (malaria pills, before going to the jungle)
And me and Annica realised the problem I had.
I was sick because of the pills I took.
I lost my appetite of them, they made me vomit 20 min later.
(second time) and it felt like I had the winter desease.
I felt dead. Or at least I just wanted to die.
So I went back to bed again and woke up couple of hours later again.
Ok, I have to try to eat something.
Mushroom soup, tea and a scone. Perfect.
And we went back to bed again to try to straighten out our day rhythm.
We have 3 blankets and a sheet on us in the bed, and we are still freezing.
I wonder how it would be when I go back home?
Will I die????
WHO WILL KEEP MY TOES WARM NOW?
Time to say goodbye.
And since I don't have a camera anymore, I have to wait with all the uploading.
We use Annicas at the moment but she doesn't have a card reader. =(
---
Lost souls not re-connected
I try, ok? I TRY!
No matter how hard I try, I just can't.
I try over and over again, but it's impossible.
What is wrong with me?
This is not me. I am stronger then this.

It feels like I shoot myself in the foot everytime.
I feel pain. But I am glad that I CAN FEEL.
I am glad that I feel like a human, and be emotionell and able to break down if you need to.
Maybe you don't want to, but it helps!

One day I'm perfect and the next, you are there.
You are everywhere.
Like a lost soul, trying to connect with me and tell me something.
I try to ignore you, but you keep coming back to me.
You are hunting my brain. Leave me alone.
Had weird dreams lately, strong feelings and I'm afraid that my bad dreams
are going to happen if I don't tell this person.
Something feels wrong.
But there is nothing I can do anymore.

I just want to erase and rewind.
No, I don't. But it would be easier.
From one lost soul to another.... trying to find peace and harmony.
Lost souls have a hard time to find their way back though.
I don't know if I can help this time. Maybe it is NOT a past life friend after all?

I am ready to go home soon.
There is no place like home.

With Love , Lee




---
Ipoh, the biggest nightmare...
One thing I realised couple of months ago is that ASIA is NOT for me.
I like it, want to experience the culture and see it anyway.
But I don't feel as relaxed as I do in other parts of the world.
Mexico is still my favourite. And many parts in Europe.

Anyway, we left this morning from Langkawi, wich is the best place I've been to in Malaysia.
Took the bus to Ipoh, to change bus to Cameron Highlands.
After being on ferry for almost 2 hours,
bus to town and then change bus again for 5 hours almost.
We were tired, cranky and both of us has our RED WEEK.
We just wanted to get on the other bus, get a bed and sleep.
I hate long bus rides, but it's just so much cheaper then flights.

What happens? We arrive in Ipoh and there is no busses until 07.40.
Great. Just what we needed. And from here, our adventure begins.
It was 23.00 at the time and taxi drivers was almost dragging us inside their cars.
So, we decided to get a room and just sleep.We stop in the middle of nowhere. Nothing is opened.
No one on the streets, no nothing nada. No people.
A chinese guy comes out, open the gate in front of the door.
It looks like shit, but I went inside while Annica was outside waiting.

Worst room I've ever seen on my trip.
And I've seen alot of shitty rooms.
This was too much. This was just it. I just can't do it anymore.
The walls were mouldy, floor was dirty with paper laying around the bed.
And the sheets were NOT clean.
We try to keep our faces and just sleep there for couple of hours and the leave.
We also decided to go for a walk, being on a bus for a whole day hurts your ass!

Goes down, no one there. Gate is locked. We were locked in.
No one in the hotel. WHAT THE FUCK IS THIS?
I scream and ring the bell, knock on doors. NO ONE!
Me and Annica didn't want to stay.
No good karma at all since we arrived.
Both of us said it looked even better to stay and sleep at the bus station.
The owner were across the street.
Did I mention that we took our stuff and fucked of pretty quick?

We walked around with our bags for almost 1 hour.
People stoping on the way, showing directions and wanted to drive us.
We were just annoyed, angry, hungry,
tired and just wanted to be left alone and don't have UGLY MEN talking to us.

We found the other bus stop and it was empty, no nothing there.
It was the WRONG bus stop. It was for the local buses.
We sit down, Annica walks around to look around.
A strange man came up to me from NOWHERE.
He was high on something, or just a fucked up psycho!
He walks after Annica, I didn't have a good feeling about this.

Annica comes back, the man was hiding between 2 buses.
Something is wrong. The man comes back.
We take our bags and leave, get a fucking taxi back to the first bus station.
The man left before us and were hiding between 2 other buses this time.
And when we walked by, he was jerking of.

At this time I was so pissed of allready.
And I can tell for sure, if I didn't have my 2 backpacks I would run
after him and kick his fucking ass! (He was really small)
And I had a lot of anger coming out. I scared him anyway,
screaming like an idiot on him. What a FUCKUP!!!!!
" Fuck you, Fuck off you idiot before I run after you and hit you, YOU MOTHER FUCKER"
With my nice Swedish / skåne accent. haha.
Took the first cab back to bus station no 1, where we arrived in Ipoh.
Hungy as idiots, (just been eating 1 egg this morning) and some chips.
We walk in to the ONLY safe place in town.
The AMERICAN EMBASSY (Mc Donalds with other words)

Free Wi-Fi. And here we sit right now.
Tired and still cranky. It's 3 am now.
Sweaty, legs hurts, ass hurts, back hurts, everything hurts.
Same clothes for 2 days, almost 3 by now.
Look like shit and I just wonder when this nightmare is going to end.

When is my dream going to change?
Where is the KNIGHT with the WHITE HORSE that is coming to pick me up?
My prince?
Where is my MISTER BIG?

I didn't think I would say this, but GOD DAMN I miss Thailand!
I prefer hookers instead of Muslim jerkoffs.
I also wonder if we are going to survive this night / morning.

We'll see....

Good night...

---
Resumé...
Ok, I have to take this short, we have to leave any second.
We're sitting at Starbucks right now, at the jetty and are suppose to leave Langkawi.
Yesterday we took the taxi in to the jetty, waaay to late and missede the last ferry.
Something told us to stay, and both of us are glad we did! It was our destiny! =)
So, we decided to go down to the Yachtclub and watch the sunset.
And there it was.... My old job. My little boat - Raja Laut.
For couple of seconds it felt weird but then we decided to walked down
and say Hi and to show Annica around, where I spendt so much time during my trip.
The new crew welcomed us good and were feeding us with beer! Nice.
I told Stephan that we missed the last ferry and 2 seconds later, our backpacks was in the cabins.
Free stay for the night, and dinner and drinks.
Couldn't get any better, just what we needed at that moment.
I felt good. I felt really good actually.
Talking to Stephan about everything that happened lately.
It felt like something inside of me released. Some of the negativity I had inside for a while disapaired.
Two bottles of wine later, and the time was way past bed time -
I could not talk swedish or english anymore.
It was totally SWENGLISH.
The music was way to loud and everyone was just talking shit.
Bla bla this and Bla bla that. We had a funny night!
The marina was quiet and peaceful.
Raja Lauts reputation is to be a party boat.
We had to keep the reputation alive.
And then I passed out in one of the cabins.
Woke up this morning and had no idea where I was.
The first thing we did was taking our backpacks and fucked off right away.
And now we are off to Cameron Highland. A beautyful place.
Check it out online.
hasta la vista, baby
Annica and some coffee...
meow meow meow...dance... dance.... dance....
---
I can't wait anymore....
I've been waiting for too long now.
Actually, I've been waiting since summer 2008 for this.
My hair was so damaged from all the chemicals so I had to let my natural haircolor grow out.
I went from brunette, back as a blonde and since that day I just had to wait.
And wait, and wait. It's been growing fast,
but for me it feels like a life time and I just can't wait anymore.
I'm going nuts!
I need a makeover. I need something different.
So, anyway... I have 5 cm left, my hair is getting shorter and shorter.
I cut a little bit at the time.
I got my good shampoo from Paul Mitchell and if I swim too much
in a pool I've got special schampoo that takes away the green from the clorin.
That many blondes got from being to much in pools.
And since I love to swim, I'm one of them. I also loose alot of hair.
It really sucks, but I am lucky it grows fast in the sun and heat here in Asia.
I decided to cut of the 5 cm and maybe get extensions, perm it and make
myself a brunette again.

I AM SO FUCKING TIRED OF BEING A BLONDE!!!


And I loved being a brunette.
When the color didn't fade away and I had to color it every week.
I also miss my bed in the background... alot...
And to paint... I have so many paintings I'm gonna do when I come home.
I've got so inspired here..
Oh, I can't waaaaaait for hanging some art on the wall!!!!!!
What do you prefer??? Send me a comment!
Blonde or brunette?
---
Evil and Knievel
When me and Annica is hanging around with eachother,
a normal day for us looks like this:
We find a kamikaze cricket, trying to kill himself in the zink.
Annica turn on the tap and spray some water on him.
He jumps on to Annicas sweather and sits there for 20 min.
She or we had a new pet! (for 20 min only)
We went to town, it's dark outside and she think it's gone.
After all he is a kamikaze cricket.
As soon as we come to town,
we walk in to the store to buy some toilettepaper (haha)
and sees that he is still there. Alive.
The owner in the store talked shit about our pet
and told him that he is noisy at night.
Don't ever talk shit on other people pets man!
So, anyway we walk out and say goodbye
to the people that work in the store.
The drugdealer in town with other words and his employee.
On the streets where we walked around,
and found ourself a little bit blurry in our heads, we see 2 cats.
Since the people talked shit about our pet,
I decided to give the cricket to the cats.
Annica agreed.
I mean, the cat is hungry and needs food too.
So, we had a nice view of a cat eating our kamikaze cricket.
I hope it was a better death then trying to kill yourself in the zink?
---
FUCK YOU!
BIG TIME!!!!!!!!
Now leave me the FUCK ALONE or DIE!
---
Rainbow
Being back in Langkawi at Rainbow guesthouse feels weird.
Many things that I miss, and many that I don't miss.
I have very good memories, and also very very bad memories from this place.
Laying in the bed with a mosquito net around me,
trying to sleep but still can't stop thinking.
Crickets and gecko sound around me.
I'm laying in THAT bed. Again. But alone.
I thought I never would do that again.
I think that "THAT NIGHT" (that is still so clear for me)
made me so hurted that I never could trust this person ever again.
No one have ever hurted me so much and acted like nothing.
What did I do to deserve that?
I trusted myself because I knew something was wrong that night.
and my intuition is always right.
Since that day nothing was ever the same
between us and never would be, even how hard I tried.
And believe me, I tried.
But I should have known better at that time, way better.
You are just stupid and I think that I just need or like
to feel like shit for a while and then realise how dumb I've been (once again)
and then move on to something else and feel better again....
This person is now dead in my eyes, and is not any longer a part of my life.
I just wish that things could be the same as it was before.
When we were happy, having fun and didn't have any problems in the way.
I miss having him in my life.
Or maybe just the drama?
---
EGO WOMAN
I pick up my book from my bag, that I got from Annica as my late birthday gift.
She knew that I liked
Carolina Gynnings
first book
Ego Girl

that was released in 2005 (as far as I can remember).
I am very glad that I got the book,
reading a bit in
Swedish
also seemed so much easier and faster
when you are having your lazy days. (Instead of english)
And now since Annica has arrived,
I can relax in another way and talk a deep
MALMÖ
accent.
Anyway, I open the book and start to read
Carolinas EGO WOMAN.
I laugh at the first pages.
I felt the same thing as I did in her first book.
How is this possible?
I know that I am nothing like Carolina, and I don't want to either.
I mean – I am me, and I don't want to be someone else.
But it felt like I was reading about my own life.
Except about her
career, being rich, famous and a celebrety
in TV shows etc.
My guess is that many girls feel the same thing as Carolina.
I don't know? But one thing is for sure....
Being a
Swedish, BLOND with BIG BOOBS
is not the easiest thing in the world.
It can sound a bit lame, but I agree with her to 100 %
Surely I haven't done a boob job, but many people judge you
and give you a lable as
BIMBO
before they got to know you.
And it's not just in Sweden. It's everywhere.
Without respect, many people look at you like you are slut.
Or as she calls it:
KNULLDOCKA (FUCKDOLL).
Without thinking that other people actually got feelings.
I couldn't stop reading the book when I opened it.
I just wanted to read more, more and more.
Carolina, a natural beauty!
Her writing is about bad relationship with men,
trying to find
MR RIGHT
but always finds
MR WRONG.
That she is not good with hanging around with other girls,
and likes to make
new friends.
Trying to find her spot somewhere else in the world,
because she thinks that she doesn't belong in Sweden.
Specially
MALMÖ.
(We are also from the same town.)
Being a bit crazy, doing her own thing and actually don't
give a shit of what other people think about her.
Because she thinks about herself.
Being selfish,
IN A GOOD WAY!
Trying to make a good career and find a spirituell good spot in life.
But in the same time get
bored and restless
when everything is a routine.
Tired of all the party people around you.
She is also an
artist/painter and a writer.

And a really georgeous
MODEL.

I can not compare myself with her, since we are very different.
But somehow it just feels like I'm reading a book about my own life.
The only thing I don't do is being a
girly girl.
Wearing alot of make-up, modeling, wearing fancy dresses etc.
Maybe if I was rich and skinny I would, but I doubt it.
I am not saying it's something wrong with it at all.
I have my curves, and I actually don't care so much.
She has been climbing up the ladder for years now and
I think that every human being in Sweden knows who
Carolina Gynning
is by now.
She is absolutely a sexy, cute, and amazingly cool woman.
I also met her during the release of her paintings at the gallery
Rönnqvist & Rönnqvist
in Malmö 2005. (?)
But she seemed a bit distracted with family around her even
if it was only me and my friend in there,
being the only one of her "fans" looking at her art.
I am glad she took out her
silicon boobs,
not that I had something against them. I don't judge people.
But I'm glad for her that she changed her life to something
more then just being called and seen as a
BIMBO.


Well, here I am, in Malaysia on a bus at the moment.
Going from
Kuala Lumpur
to Kuala Perlis to take the ferry over to
Langkawi.
Langkawi, again. Feels like a second home right now.
I keep coming back there... Just like Phuket somehow.
We'll see how my new adventure goes from now on.
Have to wait until I get my
passport.....
That's all at the moment.
I'm gonna continue reading my book.
100 pages in ONE DAY!
I think I will finish the book in less then a week. YAY!
EGO WOMAN. Perfect name! :D

GIRL POWER....
---
Summerjob, future and Formula 1!
I'm gonna search for a job that gives me good pay when I get back home.
I've been thinking for a while to send a CV to Annicas job on the ship,
DFDS.
Then I get my
STCW 95
+ more for free, and I get qualified.
If I get it! Work for couple of months,
pay of my money I owe back home and later in
December - January and then March - August NEXT year,
I got offered a job as a
NANNY
on board a sail boat,
to teach their 2 kids english and take care of them of course.
This can be it! This is what I've been waiting for!
I don't want to be a stewardess, I want to be around
KIDS!!!
They make me happy!
Anyway... If so.... we are going to sail from
TRINIDAD
(oh lalla)
to somewhere else in the caribean, and then later on to Europe!
I received the e-mail today, while fixing everything with my ticket, bank, embassy, phone etc.
I still want to be a teacher and a writer.
I heard that you don't need a
TEFL in Cambodia.
We'll see, I just have money problems now.
I can't take any course or be qualified without money and that kind of sucks big time.
So, with other words, I can't get paid alot.
If I don't be a
prostitute
of course.... But that's not an option!
And I am soooo glad I had Annica when I got robbed.
If I was alone I couldn't have done anything.
No phonecalls, no bank to put money in at the moment,
not paying for my bill, loaning me money .... nothing.
I think I just would go
home and cry.
But I tried to take everything as positive as I could and I was just laughing.
What could I do?

I was lucky in the unlucky....
Because I didn't have any money on my Malay no.
My Swedish phone is locked to Sweden, so no one can use it.
And I canceled my contract with 3 asap.
I almost didn't have any money on my bank account.
My photos on my camera I uploaded to my computer before I left the room the same day.
So the valueble things I had was my money and my passport.
Some photos, my music on my phone and all my 200 numbers on the phone.
So, please, send me your number again to me!!! :D


I'm gonna try to find myself a rich husband at the
FORMULA 1

here in Kuala Lumpur the 2-4 april. No, just kidding.
But YES, me and Annica decided to go and see it.
It has always been one of my
DREAMS
to see a
FORMULA 1 race.
I've been to
Monaco
, where they race alot but the
Formula 1 was not there at the moment. :(
Maybe I can hook up with
Michael Schumacher,
or even better... I've got a new favorite -
Jaime Alguersuari
Team: Toro Rosso,
The youngest driver ;D
Helloooooooooo......
---
Birthday and a 2 day late update.
The time is around 14.30 and I just got up.
Annica is still sleeping. I think she is a bit jetlagged.
I had nothing to do yesterday so I went to the airport a bit earlier.
Around 19.00, and her flight was suppose to come in
at 23.10 but was a bit delaid so it landed around 23.40.
It felt soooo good to see her, but yet so weird.
The aircon at the airport was sooooo cold, I was freezing.
So, I walked in and out to try to keep up my heat.
It ended up with a big COLD. Great, thanx AC!
We got to the KL central but then everything was closed
from there because it was so late,
so we had to take a cab back to China Town.
When we got here, all the people in the reception was drinking whiskey haha.
They thought that Annica was Japanese and welcomed here and said Konichiwa.
HAHAHAHA. Got in the room and it was time for me to have all my gifts!!
Time to celebrate my BIRTHDAY!!!! YAY!!
Finally someone who cares about me :)
So, mom send me a little bag with a heart. Thank you mom!
And Annica bought me book no 2 of Carolina Gynnings Ego Girl,
But this one is named EGO WOMAN.
I didn't know she had released a second one,
but I guess it's because I haven't been home for a while.
Thank you again Annica, my flower power!
I've got a bag with SHITLOADS of candy.
It's soooo much and it's soooo heavy.
And she bought TURKISH PEPPER!!!! YAY!! Love!
But now I can eat swedish candy when ever I want too! :D
I also got my special retard schampoo for my retarded hair.
From Paul Mitchell. Good!
And KNÄCKEBRÖD Wasa Sport! Oh, yum yum!
And Resorb and some more meds,
and finally a little vibrator for my ALONE times hahaha!
I have no idea how I'm gonna carry around this.
I think she need to help me for a while :D
Just the candy is 1 kilo. HAHAHA.
We went out for dinner at 3 am, just a ROTI. (indian pancake sort of)
And we got company by the 2 guys that work at the guesthouse.
They were really drunk and we had so much
fun just watching them laugh and be stupid. :D
I think I have to wake up Annica
so she doesn't sleep away the whole day from now.
We have to make plans! Can't stay in KL forever haha!
See yaaaaaaaa....
---
Police Police Potatoe Pig
Our Swedish translation on the whole
Polis Polis Potatis Gris,
(Police Police Potatoe Pig)
sounds SOOOOO much funnier in english.
So, if you are engish and read, I bet you're like "WHAT?" right now.
Can't explain, Sorry!
Anyway.
My day today....
Me and Annica woke up WAY too late (14.30)
and took us down to KLCC,
the Petrona Towers
for a nice breakfast.
Salmon baguette. =)
It was crowded at that time, alot of people.
When we are about to finish up and pay our bill I see that my bag is not there.
HAHA, very funny. Where is my bag?
No, seriously... Where is my bag?
I panic!!
My
PASSPORT,
money (the only I had left), VISA card,
camera, my 2 cellphones (swedish and malay). Photos and couple of other stuff.
GONE? GONE!


Went to the
MALL security police
and they escorted us in to a control room where we did a
report.
Then we walked down to the
Tourist Police
where we did some more reports.
The officer had a trainee with him, and as we know -
Many Malaysians are a bit slow so it took time.
But it wasn't like I was going anywhere anyway.
They were very nice and friendly and took good care of us.
Then they escorted us back to the Petrona Towers, in to the
control room,
behind everything, to watch the
security tapes.
Felt a bit like
CSI
but we didn't have any luck finding our suspect.
First thing to do tomorrow is to visit the
Swedish Embassy
and fix a new
passport.
The plan was to get over to Borneo, but I think we are going to get over to
Langkawi

since I can't fly anywhere, and just
WAIT
until everything arrives.
Granny and Mum helped me so I could cancel my
VISA card.
I didn't have so much on my card anyway, I had cash!
And all my cash got stolen, so here I am... With nothing.
And my phone with contract and everything.
Luckely I saved all my pictures this morning on my computer.
Fucking Passport. I wanted it to be fully stamped when I come home.
Now I have to start all over again. FUCK!!!!!!!
Me and my police report.
Me in the Police car, VIP escort!!!
So, traveling people....
HOLD YOUR BAG TIGHT TO YOUR BODY!!!!!!!!!
No matter if you are sitting down in a restaurant eating.
Be careful, it can happen anywhere to anyone!
---
WWF Orangutangs
If you read the advertisement on the
BLOGG.SE
homepage
You can donate some money for the orangutangs in Indonesia.
And to the rainforest with
WWF.
My idea is that I prefer to go there myself and adopt or help one.
I had a dream about this, and I told a guy at the
Muay Thai Camp.
He told me that you can go there and do some voluteer work in the rain forest.
You help the animals and you stay and eat for free.
That sounded like the best plan ever!

Can you imagine having this cute little baby in your arms?
Oh god, I can't wait!!!!!
ORANGUTANS
I LOVE YOU HAHAHAHAHA
Borneo here I come! And the
rainforrest
and
Mt Kinabalu
too!
Just arrived to KL, again. Second time.
Left the camp at 17:00 yesterday to
Phuket town
.
The
nightbus
left at 21:30 to Hat Yai.
We arrived in
Hat Yai
at 04:00
The travel agent office opened at 06:30
So, I had to sleep on a
bench
outside for 2 hours.
I felt like a fucking BUM!
They opened and the first bus left at 09:00.
So, I fell a sleep in the office for 3 more hours.
I still felt like a
BUM!
The bus finally showed up and then 7
Indian men sat in the back next to me as well.
And they were absolutely
SCREAMING
the whole time.
I was too dead to say anything.
I turned around once, and got my message.
I can give people the
EVIL EYE
MOUHAHAHA!
I was just
STUFFED with Valium,
because I knew it was suppose to be a long ride.
And so it was.
NEVER AGAIN!
Tomorrow my only mission is to get over to the airport and pick up my beloved
friend.
C ya
---
I actually don' t hate everything...
I don't hate much.
Just screaming Indians on a bus when you are trying to sleep.
And a american guy.
But the cat does HATE everything.
And he (or she) is so cute.
So I just HAD to upload the picture.
And it makes me laugh! :D :D :D
---
Lally
I just want to send some flowers to my beloved grandmother
Gull-Britt Persson
aka. Lally.
That is going through a tough time with the chemotherapy.
I just want to say that you're in my thoughts alot.
And no matter what, I love you.
Some flowers, just for you! :)
---
Last day at the camp!
Last day at the camp. Buhu. :(
I can't believe I'm actually leaving tomorrow.
I just started to like it here, and gettin' used to it.
Started with my training again and started to get to know all the people now.
And it's time to go. uuuuhhhh...
Well, it was fun anyway. I'm glad I did it. :D
And I guess that I'll be back here again one day. For sure!
Yesterday was fun.
One random thing that happened that I liked was when we
were inside the TUK TUK and beside us, a motorbike with food drives by.
I reach out my hand for some food, just for fun.
The guy reaches out his hand to mine and gives me a
CORN
on the way.
TALK ABOUT FAST FOOD!!!!!!!
HAHAHAHA...
Me and the guys from the camp.
Pretty hungover this morning.
My head was heavy. I knocked on Matt's door.
- Breakfast? Beach? Yes? Yes!
On the way, we passed the Scottish guys,
went with them to a Swedish restaurant. Mamma & Pappas. Haha.
I've finally got my meatballs for late breakfast.
They were soooo good. I could go there again!
And the lingonberries. Yum Yum!
Then the guys said something even better then the beach.
A pool to chill out in all day long.
Oh yeeees, sounded like the best plan ever!!!
Chillin' there all day and laughed alot,
eating ice cream and after that I didn't feel hungover at all.
Then I decided to go for a oil massage.
And since then I've just been laying here all day long.
(Or sitting outside the room, so I've got internet connection haha)
Ate a bag of DJUNGELVRÅL that I found in the store yesterday.
Salt liqurice munch!! :D
And some noodles, and that's it for today.
Time to get up early and pack my bag.
I wonder what time the busses leaves to Kuala Lumpur?
Couple of nights ago I had a dream about my private blog.
My private blog is a very censur, detailed sex blog wich no one knows the adress to.
Or know about (until now).
Last time I updated that one was December 2008 though.
I could't remeber I even had it, until I had a dream about it.
I woke up and thought: Hmmmm... I wonder what the adress is?
I was right the first try. Somehow.
I read my old blog posts and literally just stared at the screen.
OMG. I was amazed by myself and my writing.
Maybe I'm the next Carrie Bradshaw?
I decided to update it, with more stories. HAHA.
Goodnight World
---
Oh my Oh my...
Sitting here, listening to old Lenny Kravitz songs.
Yum Yum. I just love him. Still.
So many years ago I started to like his music.
The same songs are still with me. =)
Why can't this MAN be married to ME??
More yum.
I mean... Look! Look at him god damn it.
Who wouldn't?
Meow.
---
Malmö, Sweden


Malmö has serious problems. LOL!
Tell me something new pls!

The video is from 2009.
This is my home town, this is where I spendt almost all my life.
If you survive Malmö, you'll survive anything :P
Not as Swedish as you think ey...?
You are all welcome to visit HAHAHAHA.
If you dare :P

MALMÖ FUCK YEAH...

Ok, if you got scared by that one,
maybe I guide you with this one instead.
I bit better.
I looked at it, and when I watched it I could imagine the smell,
the noise, and the feeling of being home.
Walking down thoses streets with friends,
sitting on Little Square with a beer in my hand in the summer.
Or at the canal, with a coffee during the day.
I didn't think I was ever going to say this but.......

I MISS HOME. I MISS MALMÖ.

FUCK.


---
Better alone.
Woke up 10.30 today. Nice.
Breakfast and computer time as always.
Birdy coffee, fitness cereals with apple and milk.
Nothing to do today, so what do you do?
You go jogging during the day, in the sun.
Since I've got no motorbike,
I can't go to the beach or other places without paying for it,
or have someone bringing me there.
No license, no driving. I could drive a scooter but I don't like
it here in Thailand since everyone I talked to has crashed!
One of my earphones is broken, so only sound in one ear.
That sucks alot, but I manage to go running anyway!
Local people smiled and waved at me, gave me high five on the way.
That felt good. I am feeling good. Alot better at least!
The locals think we are crazy, go running in this heat.
Well, I am... Or we are...
I love it, even if I complain about it haha.
It is hot, hot, hooooot.... Too hot actually.
So I went back to the gym and started to work out there instead.
Not that it helped so much, cuz I'm still outside, but there is no sun. :P
By the time I was finished, Matt walked into the empty gym
and started to box a little, for fun.
Nothing to do. I'm restless!!! I go ko-ko!
So, I went back to my room and made myself 2 sandwiches
and now I'm watching a movie on the movie channel on the tv.
The same movie I watched on the airplane,
going home from Cancun, Mexico couple of months ago.
I can't remember the name of the movie.
I remember I sat there, watching it, crying and crying.
I don't think I've been crying so much in a very long time.
I really didn't want to leave Mexico and the people I met.
But everything comes to an end sooner or later.
It's just life.
Now, I don't cry over leaving people anymore.
It's more of a routine these days.
I wish it wasn't though, cuz I've met so many amazing people during traveling.
Cecilia is also in the room, reading. We get along very well.
She is leaving tomorrow though, and I will be alone in my dorm.
YES!! Privacy!!
Later today it's time to go to the Muay Thai class 16.00.
After that, it's time to get to Kata, play mini golf and get wasted.
Dinner and drinks it is!!! And golf of course haha.
I'm hoping to have a great great night, and get shitfaced! :D
And have a night I'll never forget.
I know I will... =)
Kiss on the ass to everyone, from me.
Ciao
---
Goodnight Thailand and Sweden
Before going to bed I have something else I want to say...

I AM FUCKING FRUSTRATED OVER HERE!!!

aiweo4ur809weur43rjfienu845ui904jfnvn d fvrifgntaeur5ht83hrtijnrejina

OK?
---
Expectations.
Sometimes life isn't was you
expected
it to be.
You expect so many things,
and when it doesn't turn out your way you get disapointed.
So, I'm just trying to STOP expecting things in my life.
Then I'll never get disapointed.
It's much easier to say then to do, I'll tell you that for sure!
But I'm trying my best.
I always do, and I never give up.
I'm trying to know myself to the best.
I'm not perfect, I do many mistakes in my life,
but I sure do NOT do it twice and I always try to think first.
(Trying ok, just trying haha)
I have many up's and down's too as any human being.
A social and unsocial life.
Sometimes you just want to run away and hide,
and sometimes you just want a hug and someone to take care of you.
It's crazy how it can change quick.
Life is a rollercoaster, and one more thing....
It's definitly not easy when you are traveling alone.
And you don't have anyone.
No shoulder to cry on or a friend that is there for you when you need it.
That is just life.
One thing I noticed in my life is that when I have stuff to do,
being active and being around other people etc,
I don't care about anything else around me.
I can get bored very easy, so for me this is very nice.
I like it at the camp. I'm starting to get used to it now.
Today I had my first alcoholic drink in 2 weeks.
I'm glad that Matt talked me in to this actually.
Thank you Mafro man, you're awesome! :)
Sadly I'm leaving on monday, but have been looking forward to
see my sweet sweet Annica for months now...
So finally!! It's time to be around my retarded Chip Chop Chinese.
(As I call her, but she is not chinese)
My BEBOT girl. I'm gonna be a pain in your ass hunny!!
And by the way, I did the Muay Thai today, finally.
Felt good, I'm gonna go for tomorrows class too :)
Trainers name is Lee, fucking awesome name.
So, Lee and Lee... Confusing, but funny. Always!
Time for bed. Over and out M.F!!
Meow.
---
T O W E L I E
I feel like Towelie the Towel right now.
Totally fucking retarded!
I even started to unluck my safe, hitted the numbers (who has a beep)
And tried out to do the FUNKYTOWN melody!
I still remember my numbers though! :D
---
Am I scared or what's wrong?
I don't think I'm ready. YET.
I don't know what's holding me back.
I still haven't tried the Muay Thai boxing yet.
I've been working out every day since I arrived though,
so it's not like I'm slacking.
I mean, I did Kick & Box, Body Combat and
normal boxing back home, so how hard can it be?
I've been running every day and have done Yoga twice.
Yesterday I spendt a little bit of time in the small small gym too.
Working on my triceps and biceps.
Gah, it was long time ago, but it felt so good.
I think I'm just a bit scared. Like always.
So many guys... Puh...
I'm just a bit slow too, like always haha.
But tomorrow is the day... I promise myself.
I was suppose to go this afternoon, but I'm completely DEAD.
I don't know why. Heat, sun and sweath is a reason I guess.
And most of all, bad sleep. I've had a really hard time to sleep in the heat.
3 Fans in the room and still sweating like a pig.
I've been here for 4 days now so I feel a bit bad.
Been having a great time, doing like nothing.
Just meeting different kind of people. I like it.
And I also realised that I want and need an smart, mature,
funny, loving and a ATHLETIC boyfriend in the future.
Who still is able to party and having fun from time to time.
Soon weekend. Been waiting for that. Then it's ime for a drink!!!!
I wanna get wasted haha.
So. This is our gym
---
Sweating like a pig!
I sweat like I've never did before.
Back home, if I go to the gym you can work out without any problems for an hour or more.
Sweating of course, but not so much that it feels nasty.
It's impossible to manage to do the same workout you do back home here in Thailand.
Here it's 20 times worst then home.
After 5 min, your sweath is litterally dripping.
You are soked in it!
Your clothes is all wet, like you took a swim with all of them on.
I like it when I work out though, it makes me feel good.
Actually, sometimes I think it's kind of sexy to sweat... haha.
I liked the Yoga class this morning.
I felt soooo good after the class.
The teacher was a beautiful Australian girl, gaaaaah she was so fit! *damn her*
Otherwise, nothing interesting today.
Bloging, facebooking, eating, went for thai massage (nice)
Mafro took me to the postoffice in Chalong
so I could send home my box full of shit, home to Sweden.
It only takes 3 MONTHS to get home!!! What a joke. Haha.
Then some shopping at Tesco so I can eat my own breakfast in the morning. YAY!
Cereals, milk, yoghurt, bread, noodles, fruits, coffee and CHEESE (I've missed it so much).
And then I went for a run (on the machine) for 30 min.
That was more then enough. I also borrowed the Swedish girl Cecilia's sports bra.
I forgot I left mine at the laundry service.
That was very kind of her, letting our sweat get mixed together hahaha.
So, then I had a shower, a late snack and a drink (non alcoholic) with Mafro man.
See, I'm a good girl. Or at least I'm trying too! :P
Tomorrow is a new day at the camp.
More exercise! YAY! =)
Good night and smell you later aligator.
---
Rawai Muay Thai Camp
From being on a Pirate Camp, to moving to a Muay Thai Camp.
Big different. I like it.
I've never been to Rawai here in Phuket, but I like it alot allready.
The camp is mostly guys (lucky me haha).
It came very spontaniously to me.
For those who knows me well, know I can be very spontanious!
I was just suppose to leave the computer and get on a busride to Malaysia.
When I talked to Matt (that I met on Phi Phi) and I thought "Why not?"
Nothing to loose.
I always wanted to experience to be in a sport camp in some kind.
And now when I don't got a job anymore, I could! =)
I'm still gonna go for the 1 month Yoga on Koh Phagnan later on!
I took a motorbike taxi here from Phuket town to Rawai.
I said to the driver "Rawai Muay Thai Camp"
He looked at me and I think he fell in love,
he took pictures on me with his cellphone and asked me all kind of weird questions.
I don't mind it, it was just funny haha.
"You like Muay Thai?" Oooooooohhh.... Good!!
Then there is 4 different camps and of course I was in the wrong one haha.
So, Matt had to pick me up and I payed for 1 week stay.
Perfect timing when Annica arrives in Kuala Lumpur.
I got a dorm with 3 beds, there was only 1 swedish girl inside.
So now we're two Swedes! :D
The dorm is nice actually. 1500 baht for a week!
I've got a good safety box, Tv, our own bathroom with hot water,
fridge with a little kitchen and kitchen stuff.
That is like "WOW" for being in Thailand. :)
Last time I cooked was on Raja Laut. (Long time ago)
The Swedish girl asked me:
"Are you gonna go for the afternoon class?"
Uhmm... No, not today...!
I've been up since 06 something...
I felt bad. Everyone here is going to the classes.
And so am I, but I'll have to work on that tomorrow
when I feel more fit for fight.
I signed up for a Yoga class in the morning though, as a start.
Then I'm going to try out the Muay Thai, of course!
It's just that when there is 40 guys around me,
seing me sweathing and kicking etc. I get really shy and giggly.
Uncomfertable with other words and feel like a little girl haha.
I still have to work on that!
Matt took me around on his cool scooter.
To the beach, up the mountains and to a view point
where people were paragliding. A really nice place actually.
Came back to the camp and I decided to go jogging.
It felt really nice. Then the both of us went out for some dinner.
And ended up talking to 4 other guys at the camp.
2 english and 2 americans. Big guys haha.
I was exsausted, (still are) so I decided to go to bed.
And that's about it.
Good night folks. Over and out.
---
Cat, I'm a kitty cat!


This one is for you my retarded friend.
I was cracking up when I watched it. Thanks to you.
Now I've got the song stuck on my head. Again.
Thank's! :D

---
Left overs, Money and Muay Thai
Good morning!
Time to say Goodbye to T, again.
Worst goodbye ever, not like on
Isla Mujeres.
Well, then it was breakfast time.
Yogurt and cereals with cashewnuts.
Had to much, and the chicken walked by me this morning....
So, why not give them my left overs?
That's how we lived in the Pirate Camp.
Packed my bag and said goodbye to
Mishko and Kaishu.
Not to Jory. He didn't say much.
And he didn't give me the amount of money that I was expecting.
Apparently he wasn't happy about my work.
But he didn't tell me, he just told Tim -
Who apparently was kind of a messenger between us.
I can't stand those things. But who gives a
FUCK?
I don't want to waste bad energy on someone.
It's just money, and that's not everything.
I was suppose to leave to Langkawi, Malaysia today.
But I didn't really feel like it. Something told me to stay here.
I went to the internet cafe. (And I'm still here.)
I talked to a guy
(Matt)
I met on Phi Phi.
He is here in Phuket too.
At Rawai, in a
Muay Thai Camp.

- Come and visit
, he said.
Hmmm... It actually sounded really tempting.
OK!! Let's go and do some work-out for a week! :D
It's better doing that then going to Langkawi and get wasted. Right??
I have to wait for
Annica
anyway somewhere.
This little fellow is a new member in the family.
Tree froggy!
So, now it's time for me to do some work again.
Fit for fight.
---
I Love you?
The three big words.
I.Love.You.
What does it mean?
What is Love?
And how do you mean it?
When can you say it to somone?
How do you say it?
And when are you ALOWED to say it?
I know people who says it daily or very often at least.
I think it has a bigger meaning for me.
So when I say it, I really mean it to someone.
I know people who says it, just because the other person says it.
I don't believe in that.
From me, is from my heart.
I also know that there is different kinds of love,
but when do you know that you love someone?
And in what way?
And I know that there is many cells in every
single human body that can mix up feelings.
Endorphines for an exemple.
Sex is a good explaination for that actually.
I guess that Love is when you can laugh, cry,
fight, kiss and make love, respect and accept
the other person as he or she is. No one is perfect.
I don't know if other people feel the same kind of love that I do.
Everyone is different.
My love is strong and full of happiness :)
And I know who I love and those people
have a powerful and good place in my heart.
Over and out!
---
Pirate Camp Day 9!?
I can't believe I've stayed here for 9 days all ready.
Time flys by when you are having a great time.
Soon time to leave the Pirate Camp and move down to Kuala Lumpur again.
I can't wait, but I'm going to miss The Pirate Camp though.
The last couple of days has been a really nice time for me.
I haven't been this comfertable in a while.
I figured out what I want to do with myself.
My passion is my writing, even though I don't write that good.
But it CAN be better, and I KNOW it.
Maybe if I go to a class or something?
But I just like to write about myself, and other stuff what's going on around me.
And what interests me. Travels etc.
But do people really want to read about that?
I can work as a freelancer?
I'm not that much of a computer freak,
I don't know how to change my blog so it looks better,
I don't know how to do a good homepage or how to
change and make your pictures look good in photoshop.
I know many people who CAN do this though.
But I know that you can get alot of money made from your blog.
Today's bloging is mostly just about fashion and make-up though.
And that's nothing I want to write about.
Well, anyway enough talking about that....
Another thing I like to do is taking care of kids.
That has always been something on my list, what I want to do.
But I never putted some action in to it.
I like to have fun and kids are funny and they like to have fun too.
So, I haven't really figured out how to get a solution out of my plan yet.
I need to put some more thinking into it I guess.
It would be really easy for me to get a job as a english teacher,
IF I spoke english as my first language myself.
But I don't. :(
So, maybe be a part time writer that takes care
of poor children in other countries?
That would be something to write about, wouldn't it?
I really like Kaishu, he is a smart kid.
(He is Mishko's and Jory's son, the family I stay with)
If I get children, I want my kid/kids to be like him.
He is cool and he asks a million questions,
and he remembers all the answers too.
I really can't wait until I get my own children.
Kaishu and his dad Jory.
Yes, you heard me right.
I think it's gonna take a while though,
I have to find a good man first.
And THAT my friends, is NOT something easy!
My friend told me a good thing once, that I remember:
THAT YOU HAVE TO KISS ALOT OF FROGS BEFORE YOU FIND YOUR PRINCE.
And that.... is true...
Time for bed. Good night darlings.
---
Ken Lee!!!!


I just LOVE this Retarded girl.

Ken Leeeeeeeeeee, Tulibu dibu Douchoo!
---